Bain de forêt
A very long time ago, we lived in symbiosis with nature and, since industrialization, human beings have lost this balance.
Shinrin-yoku is a Japanese technique that offers you to find this contact. Shinrin-yoku is the experience of completely immersing oneself in the atmosphere of the forest.
However, it's not always easy nowadays to be in touch with the real nature, so hangar south decided to bring it to you in the Bain de forêt collection , which means shinrin-yoku in French.
To fully experience the effect of Shinrin-yoku, Dominic Goyer offers three hyper-realistic scents of the forest: the moist plant carpet of feuille(s), the undergrowth in the mist of racine(s) and the tender green wood of écorce(s).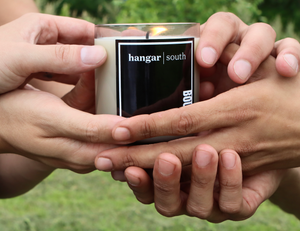 Olfactory Rituals
Olfactory Rituals